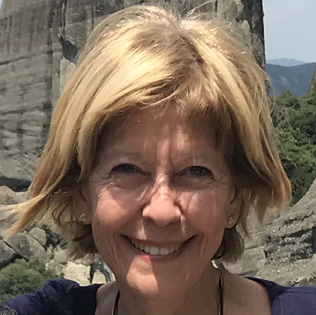 Paint and video are my primary media – separately and together. Though largely abstract, my paintings incorporate figurative and architectural elements, letterforms and references to nature. Orchestrating detail, color, and scale, I use paint for its ability to describe an otherwise invisible world, eliciting a physical response that draws the viewer into the world of the work.
Video structures the viewer's time in a way a painting can't, showing thought unfolding. I use video much like paint – layering, overlapping and manipulating imagery till the source is transformed and no longer identifiable.
Video is the medium for my set design work in opera, music, dance and theater. The video work for the stage informs and sometimes incorporates elements of my painting. In 2008, working on my first video backdrop for the opera Bluebeard's Castle by Béla Bartók I began exploring projecting video on painting. I became intrigued by the surprising perceptual and psychological experience of viewing video and painting simultaneously, a new visual experience which is unique to this hybrid medium. I began referring to these as "hybrid paintings" – a melding of painting and video that leaves the viewer uncertain which part is paint and which is projection.